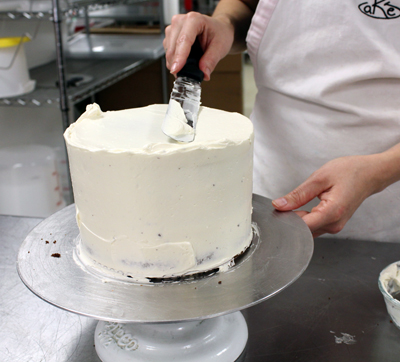 Give a man a cake; feed him for a day.  Teach a man to make a cake that looks like his pet chihuahua; all his friends will be quite impressed!
No matter your background or cake decorating skill level, we have a class that will get you in the kitchen baking (or decorating) your heart out!  -And these aren't your Gran's cheesy, over-puffed cake classes! Taught by our team of crazy talented cake bakers and decorators, classes are broken down by topic and skill level so you can pick and choose a class or set of classes that's relevant to whatever your goals may be!
Cool, right?
Class Gift Certificates are also available!
Free Oakleaf Cakes Apron & Certificate if you take 5 or more of our classes!
---
It's 4 a.m.  The soccer team bake sale is in 3 hours and you need someone to show you how to make an adorable gumpaste flower!  Our free, professionally filmed Howcast instructional videos to the rescue!  While not as in-depth or hands-on as our classes, these videos will get you going quickly and painlessly in a pinch!
Check out ALL of our Howcast Videos!
---
Discover the tricks to making a completely edible 3D burger cake. You'll learn how to create a 3D cake from a 2D image; how to carve cake; how to build a foolproof inner structure for a stacked cake; how to flawlessly cover a cake of any shape in fondant; how to color and texture fondant to create realistic representations of various burger toppings; how to paint and airbrush a cake; and much more.