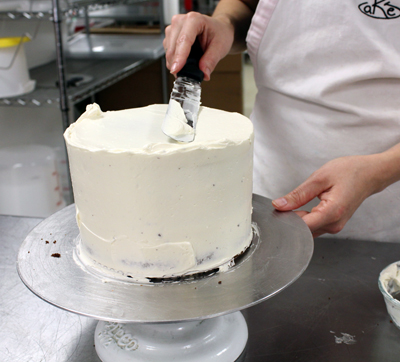 Give a man a cake; feed him for a day.  Teach a man to make a cake that looks like his pet chihuahua; all his friends will be quite impressed!
No matter your background or cake decorating skill level, we have a class that will get you in the kitchen baking (or decorating) your heart out!  -And these aren't your Gran's cheesy, over-puffed cake classes! Taught by our team of crazy talented cake bakers and decorators, classes are broken down by topic and skill level so you can pick and choose a class or set of classes that's relevant to whatever your goals may be!
Cool, right?
Class Gift Certificates are also available!
Next upcoming classes
Fun with Fondant – Galaxy Airbrushing
Sunday, September 21st 4-7 pm
Buttercream Basics
Monday, September 22nd 6-9 pm
Autumn Cupcakes
Tuesday, September 23rd 6-8 pm
Please note :  Our classes will take place at our new Boston store located at 12 Westland Ave Boston, MA.
CLICK to see our full schedule of upcoming classes!
Free Oakleaf Cakes Apron & Certificate if you take 5 or more of our classes!
---
It's 4 a.m.  The soccer team bake sale is in 3 hours and you need someone to show you how to make an adorable gumpaste flower!  Our free, professionally filmed Howcast instructional videos to the rescue!  While not as in-depth or hands-on as our classes, these videos will get you going quickly and painlessly in a pinch!